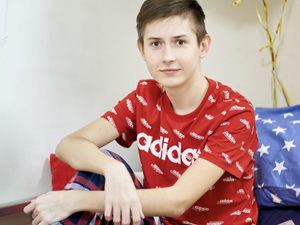 Target:
70000 UAH
Collected:
60596.92 UAH
Created:
26-05-2021
Status:
Open
DANYA SHPAK HAS LYPHOMA. HE NEEDS URGENT HELP!
Danya's family heard a terrible diagnosis on the eve of the boy's birthday. He was diagnosed with lymphoma that affected the brain and kidneys.
The child was urgently sent to the intensive care unit. Then there was the hematology department and a difficult path to recovery.
The first protocol, according to Dani's mother, was very difficult. Morally and financially.
To save Danya and give him a chance for life, family need huge sums. Shpaks won't be able to cope on their own.
We can't leave them! That is why we urge everyone who cares to join.
Name: Shpak Daniil
Date of birth: 29.11.2006
Diagnosis: T-cell lymphoma with brain and kidney damage. Hepatitis C and G
The purpose of the project: to collect UAH 70,000 for maintenance drugs
P.OS.PELOV - fest
28-07-2021
13:12
CreditPlus
14-07-2021
14:53
P.OS.PELOV-fest
07-07-2021
12:41
P.OS.PELOV-fest
07-07-2021
09:59
Перерозподіл коштів з проєкту 846 (Маловик Сергій)
30-06-2021
13:03
CreditPlus
18-06-2021
11:24
Налбантова
27-05-2021
23:38