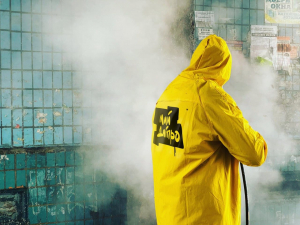 Target:
119520 UAH
Collected:
24580 UAH
Created:
15-06-2021
Status:
Open
"МИЙ ДНІПРО"
We are reopening a collection in support of the "Мий Дніпро" project. We remind you that this is a fantastic collaboration of "DobroDiy", "Dnipro.design", "PR-agency PRoector".
Our goal: to combat the spread of drug advertising - to clean the walls of buildings from drug tags, telegrams, links, other advertising waste, while maintaining the authenticity of the facades, their aesthetic appearance.
Wash, not paint. Keep the facades, not slander. These are our principles.
We do not hope for the problem to disappear, but identify its root cause, create a strategic plan and unite the efforts of officials and citizens.
In winter, thanks to the annual charity flower flea market, we were able to purchase special equipment - a high-pressure device HDS 8/20 G TM "Karcher" for cleaning walls, worth 200 thousand hryvnias.
How the "wash" takes place, you can watch on the channel "Мий Дніпро" - https://www.youtube.com/channel/UCQAKOtDupqTrdPLRc...
You can join a good cause even from your phone. In the telegram-bot of the project https://t.me/myidpbot you will be able to block the drug channel yourself or draw the attention of activists to a specific building.
Now we need funds to purchase consumables, special "chemicals" that carefully wash the walls of buildings without harming them, and pay for fuel for Мий-mobile.
The cost of consumables per 1 month of work is UAH 29,880. We aim to raise funds for 4 months of cleaning work - UAH 119,520.
myidpbot
16-01-2022
14:22
myidpbot
04-08-2021
10:59
Перерозподіл коштів з проєкту 937 (ОБОРУДОВАНИЕ ДЛЯ ПРОЕКТА "МИЙ ДНІПРО")
15-06-2021
16:19
myidpbot
15-06-2021
16:08
myidpbot
15-06-2021
16:05