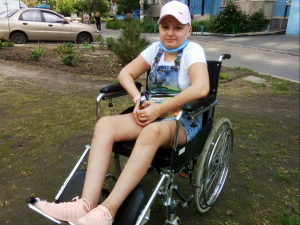 Target:
70000 UAH
Collected:
70000 UAH
Created:
14-07-2021
Completed:
14-10-2021
Status:
Completed
STAGE IV CANCER! THE LIFE OF 12-YEAR-OLD MASHA IS DANGEROUS! URGENT COLLECTION OF FUNDS!
In early November 2020, Masha's temperature rose. In her native Kramatorsk, the girl was first treated for SARS. Unfortunately, the diagnosis was more frightening - Burkitt's lymphoma stage IV.
At the end of November, 12-year-old Masha and her mother were taken to Dnipro. They arrived by ambulance, because even then the child could not walk.
For 6 long months the girl underwent high-dose chemotherapy. Mashas often did blood transfusions.
Hepatitis C has now been added to ruthless cancer.
To this day, the girl can not move independently. Maria needs long-term rehabilitation, expensive maintenance drugs.
All this time the mother paid for her daughter's treatment on her own. Her financial resources have been exhausted. And expect help from no one - Victoria raises Masha alone.
We urge everyone to join and help Masha in the difficult fight against oncology!
Name: Palaguta Maria
Date of birth: 23.10.2008
Diagnosis: Burkitt's lymphoma stage IV with lesions of the lymph nodes of the abdomen, liver, pelvis, bone marrow CNS.
The purpose of the project: to raise UAH 70,000 to pay for maintenance drugs
Александр
23-07-2021
13:23
Віолетта
18-07-2021
12:26
Анна Бохонок
17-07-2021
12:28
Арина Акунц
16-07-2021
19:54
Светлана Клешкова
16-07-2021
19:29
CreditPlus
14-07-2021
14:50