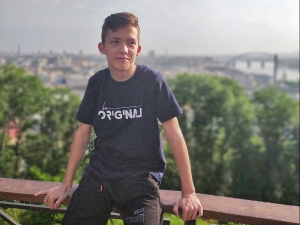 Target:
80580 UAH
Collected:
80580 UAH
Created:
21-07-2021
Completed:
28-07-2021
Status:
Completed
SASHA HAS A FUNGAL LUNG LESION! THE SITUATION IS CRITICAL! FUNDS FOR TREATMENT ARE NEEDED TODAY!
In March 2019, Sasha was diagnosed with Burkitt's lymphoma. The boy was treated in his native Kryvyi Rih. But the child's health was deteriorating. So we had to continue the struggle abroad.
Since May 11, 2019, Sasha has already been in one of the clinics in Istanbul. Then Ukrainians from all over the world helped him recover. More than $ 110,000 has been raised through joint efforts. And after 6 months of treatment there was remission.
Until December 2020, the boy was not ill. However, for the last six months he has been plagued almost every month by the usual, at first glance, diseases of the upper respiratory tract, sore throat. At the same time, the lymph nodes significantly increased (up to 2.5-3 cm in diameter). This forced Sasha's parents to see a doctor again.
As a result, the boy was diagnosed with pulmonary candidiasis (fungal lung disease). Sasha is currently in the oncohematology department of the Dnipropetrovsk Regional Children's Hospital. The cost of daily treatment is enormous - UAH 7 000! And the parents spent all their savings, diagnosing their son.
We ask everyone to support Sasha and his family! The boy's life hangs in the balance! We can't leave him without our support!
Name: Tereshchenko Olexander
Date of birth: 22.02.2005
Diagnosis: Burkitt's lymphoma. Pulmonary candidiasis
The purpose of the project: to raise UAH 80,580 for the purchase of medicines
Credit Plus
28-07-2021
14:26