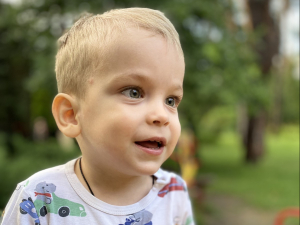 Target:
20000 UAH
Collected:
20000 UAH
Created:
29-07-2021
Completed:
16-08-2021
Status:
Completed
A LITTLE DANIA NEEDS HIGH COST REHABILITATION!
Dania's 3 years old. A kind and gentle child. He was born when his parents did not expect him to appear. At 32 weeks of pregnancy, Alexander and her husband were resting on the Sea of Azov. Suddenly the placenta peeled off.
Then in the Priazovsky were saved 2 lives. Dania was immediately taken to Zaporizhia intensive care unit.
Last year he was diagnosed with cerebral palsy, spastic diplegia, and psychomotor developmental delay. The boy is lagging behind in development. In 2020, the family underwent 4 rehabilitation courses. And the results were very successful!
Now Dania walk on his knees, eating herself. He loves to draw. And he shouldn't stop! The key to a child's health is in regular classes both at home and in medical centers. One day, the boy's parents hope, he will definitely walk.
The family cannot pay for all the courses alone. Let's help the most cherished dream come true!
Name: Kalyna Daniil
Date of birth: June 16, 2018
Diagnosis: cerebral palsy, spastic diplegia with persistent motor disorders. Delayed psycho-motor development
The purpose of the project: to raise UAH 20,000 to pay for a rehabilitation course at the «Bude Tak!» rehabilitation center