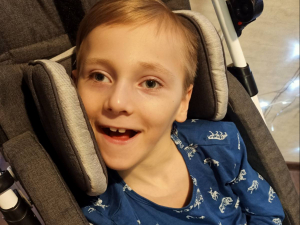 Target:
30000 UAH
Collected:
30000 UAH
Created:
30-07-2021
Completed:
16-08-2021
Status:
Completed
SPECIAL NUTRITION FOR VYSOCHENKO NAZAR. PARENTS ASK FOR HELP!
Nazarchik is 9 years old. Due to severe diagnoses, the boy does not walk, does not talk, does not even sit alone.
He suffers daily from pain in muscles, joints, all organs work incorrectly. From this pain in the stomach, intestines, heart, kidneys ...
Nazarchik loves life very much! "He is a very beautiful boy, we all love him," says mother Oksana.
"He fights in spite of everything. We go for treatment and rehabilitation. It's easier for him there! And he smiles and continues to live! The son is a ray of sunshine! He loves to watch "Make comics laugh"! He laughs very loudly," adds Nazar's mother.
Due to serious illness, the child needs special nutrition. Its cost is unaffordable for a family with two children, where only the father works.
We are opening a foundraising to help the Vysochenko family buy special food for Nazar for 3 months. Join!
Name: Vysochenko Nazar
Date of birth: 20.12.2011
Diagnosis: Cerebral palsy. Double hemiplegia with persistent motor disorders, severe psychosomatic developmental delay. Symptomatic epilepsy
The purpose of the project: to raise UAH 30,000 for the purchase of special food mixes "Resource Junior"
Перерозподіл коштів з проєкту 1070 (Бондарець Денис)
05-08-2021
15:54
Волошина Вікторія
30-07-2021
21:06