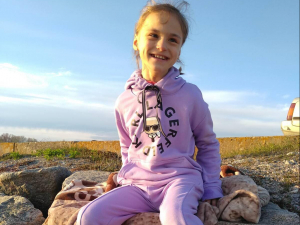 Target:
20500 UAH
Collected:
20500 UAH
Created:
04-10-2021
Completed:
22-10-2021
Status:
Completed
MIROSLAVA CHOOSE HER LIFE. AND SHE REALLY WANTS TO BE HEALTHY!
Myrosya was born on January 1, 2011. The silence in the delivery room did not mean anything good. The child was born in a coma. And by all indications Myroslava should not live...
But for 10 years she and her mother have been fighting cerebral palsy. And very successful! The girl stands at the support, walks with support. She is very interested in everything new. Loves music, Gaidai's films. With each rehabilitation, Mirosya's hands becomes more obedient.
The child does not speak, but understands everything perfectly.
The real love of the girl is the pool. She enjoys water activities the most. And Mirosya feels better after swimming: spasticity decreases, the girl falls asleep more calmly.
Myroslava is currently in the 2nd grade. Although 10 years ago doctors put a cross on it.
Please help the girl to continue her rehabilitation courses!
Name: Myroslava Bryushinina
Date of birth: 01.01.2011
Diagnosis: cerebral palsy, spastic-dyskinetic tetraparesis
The purpose of the project: to raise UAH 20,500 to pay for a rehabilitation course at the 'SPACE CLINIC' rehabilitation center
Перерозподіл коштів з проєкту 1097 (Бабакова Поліна)
13-10-2021
11:12