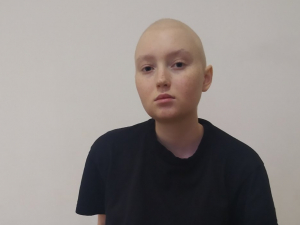 Target:
50000 UAH
Collected:
40904.52 UAH
Created:
04-10-2021
Status:
Open
VERONICA IS A TRUE FIGHTER! LET'S HELP HER RECOVER FROM CANCER!
Kuderova Veronica is 17 years old. She has leukemia. The girl is a real example of how to maintain a positive mood and faith in victory.
During treatment, Veronica reads many books. She likes to read English. The girl is trying to learn the language on her own. She wants to take international exams in English because she plans to study abroad.
Veronica's other hobby is cooking. She is constantly finding new recipes, ideas for cooking.
The girl does not waste time, does not lose heart! And we believe in it with all our hearts! Please help Veronica beat blood cancer once and for all! With your support, all her dreams will come true!
Name: Kuderova Veronika
Date of birth: 05.09.2004
Diagnosis: Acute lymphoblastic leukemia
The purpose of the project: to raise UAH 50,000 for the purchase of maintenance drugs and to pay for laboratory tests
Вікторія
06-05-2022
21:21
Барті Крауч
16-02-2022
10:42
Перерозподіл коштів з проєкту 1092 (Мащенко Оксана)
20-01-2022
15:38
SlonCredit
30-12-2021
11:37
CreditPlus
17-12-2021
15:31
CreditPlus
25-10-2021
11:43
Перерозподіл коштів з проєкту 1007 (Кудерова Вероніка)
04-10-2021
16:51