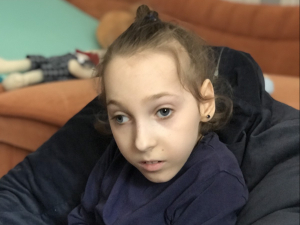 Target:
29868 UAH
Collected:
29868 UAH
Created:
07-10-2021
Completed:
25-10-2021
Status:
Completed
THE RAISING FOR SPECIAL FOOD AND MEDICINES FOR SAZHNIEVA KATIA
The life of 11-year-old Katia is full of hard daily struggles. The child has cerebral palsy. Despite this, she is a cheerful, positive girl. He smiles all the time.
Katia loves to be among children. She really likes music. And she happily spends time with pets.
Over the past year, the girl underwent 3 anesthetics, surgery for osteomy of the pelvis and femur. She spent a month and a half in plaster. She underwent many rehabilitations. Due to being confined to a wheelchair, Katia finds it difficult to gain weight. Only special food can help her.
And for the normal functioning of the gastrointestinal tract Katrusia must take "Ursofalk". This remedy treats the liver and biliary tract.
We are opening a fundraiser to help the Sazhniev family. We will provide Katia "Ursolfalk" for six months, and special food - for 4 months.
Name: Sazhnieva Kateryna
Date of birth: 09.08.2010
Diagnosis: Cerebral palsy, spastic quadriplegia, double hemiplegia
The purpose of the project: to raise UAH 29,868 for the purchase of 'Nutridrink' special food mixes and 'Ursofalk' medicine
CreditPlus
25-10-2021
11:43
Перерозподіл коштів з проєкту 1017 (Кулініч Гордій)
19-10-2021
17:08
Перерозподіл коштів з проєкту 1099 (Дріманов Тимур)
13-10-2021
11:18