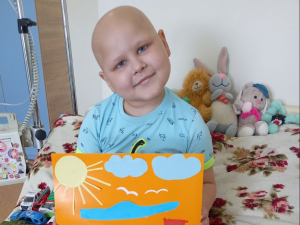 Target:
70000 UAH
Collected:
70053 UAH
Created:
08-10-2021
Completed:
07-01-2022
Status:
Completed
5-YEAR-OLD TIMUR HAS BLOOD CANCER! EVERY POPE IS IMPORTANT!
In February 2021, the lives of Timur and his parents were divided into before and after. The boy became ill with pneumonia. And when it seemed that the disease was over, Timur was again taken to the hospital: pale skin, malaise, fever...
Poltavas doctors pass sentence — leukemia. And the first block of struggle began. After that, Timur and his mother were sent to the Dnipro. Here the boy is treated with high-dose chemotherapy.
Once cheerful and energetic, Timurchik is now weak and very exhausted. After each block of 'chemistry' 'fall' analyzes. And when they can be lifted by expensive drugs, the child 'comes to life'.
The boy plays with tractors, bakugans, scrinchers. Within the walls of the hospital, Timur dreams of a speedy recovery and a meeting with his little brother.
Please help Timurchik fight cancer! Every penny gives the boy a chance at life!
Name: Sypalo Timur
Date of birth: November 6, 2015
Diagnosis: Acute lymphoblastic leukemia
The purpose of the project: to raise UAH 70,000 for the purchase of maintenance drugs and to pay for laboratory tests
Новоточиновы
07-01-2022
10:45
ТОВ УКР-ТРАНС-ЛОГІСТИКА
06-01-2022
12:49
CreditPlus
19-11-2021
15:25