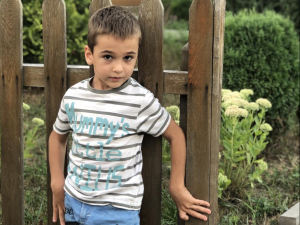 Target:
20000 UAH
Collected:
20000 UAH
Created:
12-10-2021
Completed:
19-11-2021
Status:
Completed
REHABILITATION FOR POLTAVSKYI YEGOR. HELP TO COLLECT FUNDS!
Yegor is a first-grader. He adores nature, birdsong, sunset. All the time the boy invents interesting stories, sings songs. Yegorka finds a positive in everything. And even to the ridicule of classmates says: "No problem!"
Now Yegor does not walk alone. It moves only with the help of adults or walkers.
Every 1.5 months the boy undergoes rehabilitation courses. Parents pay for Yegor's treatment on their own. Each rehabilitation costs up to $ 1,000! The family can no longer cope alone. But you can't give up and give up!
Please support Yegorchik in his difficult struggle for a happy childhood!
Name: Poltavskyi Yegor
Date of birth: March 12, 2015
Diagnosis: Cerebral palsy, double hemiplegia. Level III motor disorders
The purpose of the project: to raise UAH 20,000 to pay for a rehabilitation course at the 'Rostok Zhyttya' Hippotherapy Center
CreditPlus
19-11-2021
15:22
Перерозподіл коштів з проєкту 1055 (Єпанов Даня)
02-11-2021
15:43
CreditPlus
25-10-2021
11:42