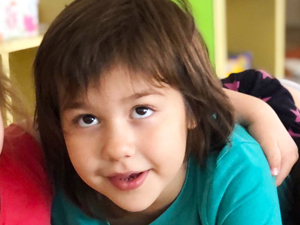 Target:
20050 UAH
Collected:
20050 UAH
Created:
18-10-2021
Completed:
30-11-2021
Status:
Completed
KIRA HAS AUTISM. SHE IS WAITING FOR REHABILITATION IN DECEMBER. PLEASE SUPPORT THE CHILD!
Cheerful Kira is 5 years old. When she was half her age, her mother noticed that her daughter did not behave like other children. For a whole year, Kira was diagnosed with autism. Since then, the child undergoes regular rehabilitation courses.
The girl loves to practice. Everything is new to her joy. She is a gentle and affectionate girl. Each lesson begins with a hug.
Now Kira knows the alphabet. Even English. But, unfortunately, still does not speak.
There is a lot of work ahead, a difficult path. And Kira's mother can no longer cope alone. Please support Kira! Help her go to the planned rehabilitation in December!
Name: Mayboroda Kira
Date of birth: 05.03.2016
Diagnosis: Childhood autism. Lack of speech. Severe maladaptation
The purpose of the project: to raise UAH 20,500 to pay for a rehabilitation course at the 'SPACE CLINIC' rehabilitation center
SlonCredit
27-10-2021
11:40
CreditPlus
25-10-2021
11:41