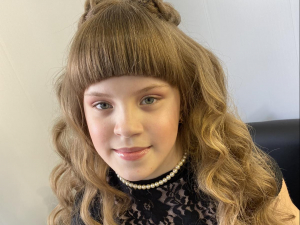 Target:
17250 UAH
Collected:
17250 UAH
Created:
19-10-2021
Completed:
29-11-2021
Status:
Completed
KIND AND HONEST MARIANA KUSHNIR IS WAITING FOR YOUR HELP!
Marianka is 9. She is in the third grade in an inclusive form. Despite of this, the girl does not lag behind her classmates in the school curriculum.
Mariana loves English very much, reads poetry well. On Saturdays he attends a drawing class. And recently she signed up for vocal lessons. Marianka wants to try everything!
The girl is open, sincere. Sociable and compassionate child. Her biggest dream is to swim in the sea, to have a rest together with her father and mother, the whole family.
Unfortunately, due to a difficult diagnosis — cerebral palsy — Mariana does not walk by herself. Unless, quite a bit. The child has a pelvic skew. Because of this — shortening of one leg and scoliosis.
To improve her physical condition and become more independent, Marianka needs constant rehabilitation. And these are big funds. It is difficult for a family to cope without help. Please support the girl!
Name: Kushnir Mariana
Date of birth: 08.07.2012
Diagnosis: Cerebral palsy. Spastic diplegia
The purpose of the project: to raise UAH 17,250 to pay for a rehabilitation course at the 'Stay helsi' Rehabilitation Center
SlonCredit
27-10-2021
11:40
CreditPlus
25-10-2021
11:41