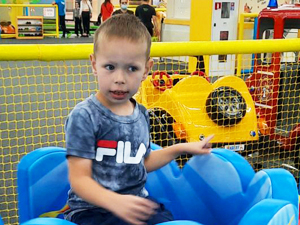 Target:
10600 UAH
Collected:
10600 UAH
Created:
19-10-2021
Completed:
26-10-2021
Status:
Completed
EXPENSIVE MEDICINE FOR SOLOVYOV MYSHKO WITH AUTISM
A little boy named Myshko lives in the city of Severodonetsk together with his mother and grandmother. In September he turned 6 years old. He likes to go to his kindergarten. And his special passion — entertainment centers with trampolines and mazes.
Unfortunately, Myshko communicates with his relatives only with his eyes and emotions. The boy does not speak.
When the child was 2 years old, his mother Olia noticed: the baby is not interested in other children, he does not understand the speech. Doctors have confirmed the fears — autism spectrum disorders.
Since then, the mother does not stop trying to adapt her child to a full life. The boy regularly attends rehabilitation centers. In 2020, Myshko was finally diagnosed with hyperactive syndrome with mental retardation and stereotyped movements.
The doctor prescribed Myshko expensive drugs that will have a positive effect on the nervous system. But a single mother cannot buy them on her own. Please, let's support Mykhailyk!
Name: Solovyov Mykhailo
Date of birth: 25.09.2015
Diagnosis: Childhood autism. Hyperactive syndrome with mental retardation and stereotyped movements. General underdevelopment of expressive speech. Sensorimotor allele
The purpose of the project: to raise UAH 10,600 for the purchase of 'Gliatilin' and 'Silenta' drugs
CreditPlus
25-10-2021
11:41