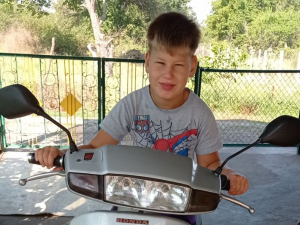 Target:
20000 UAH
Collected:
20000 UAH
Created:
21-10-2021
Completed:
06-12-2021
Status:
Completed
INDEPENDENT STEPS OF SATANOVSKY MAKAR. HELP MAKE YOUR DREAM COME TRUE!
Makar's 8. He has cerebral palsy. Behind his small shoulders are many rehabilitations, consultations, treatments. And of course, a lot of achievements!
Now the boy stands at the support, walks with support, crawls, knows the colors. Makar loves music very much, he studies at a music school.
This year the boy went to first grade! So what about individual lessons and a correctional class? But at school, in society!
Makarchik is very active and cheerful. He likes to make new friends.
Each rehabilitation brings him closer to his most cherished dream — to walk independently. It is possible that after the next course in December, this dream will come true. With your help.
Name: Satanovsky Makar
Date of birth: June 26, 2013
Diagnosis: Cerebral palsy, spastic tetraplegia. Microcephaly. Delay of statokinetic and psycholinguistic development.
The purpose of the project: to raise UAH 20,000 to pay for a rehabilitation course at the 'Rostok Zhyttya' Hippotherapy Center
SlonCredit
27-10-2021
11:38
CreditPlus
25-10-2021
11:41