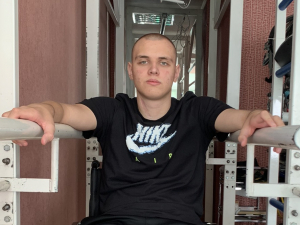 Target:
70000 UAH
Collected:
70000 UAH
Created:
22-10-2021
Completed:
12-11-2021
Status:
Completed
THE LAST HOPE OF ANTONENKO DIMA. URGENT COLLECTION!
2.5 years Dima is learning to walk again. A terrible back injury divided his life into "before" and "after".
Doctors predicted a bleak future for Dmytro. They said he would never get out of bed again. However, Dima was able to! Thanks to hard work, diligence and regular rehabilitation, the guy has already made his first steps. And he's not going to give up!
Now Dmytro is 20 years old. At 17 he became a ward of the Exchange. And today we can't leave him without help!
Rehabilitation for adults is extremely expensive. And this is Dmytro's only chance to recover from the injury! If it weren't for classes with specialists, the guy would have turned into a "vegetable" in bed...
There is hope for recovery! After each course of rehabilitation Dima becomes stronger, stronger, more active.
Please support him! The young man has his whole life ahead of him! Let's give him a chance to be healthy!
Name: Antonenko Dmytro
Date of birth: 16.10.2001
Diagnosis: Consequences of spinal cord injury with severe motor impairment
The purpose of the project: to raise UAH 70,000 to pay for a rehabilitation course at the 'Guta' Rehabilitation Center
SlonCredit
27-10-2021
11:37
CreditPlus
25-10-2021
11:40