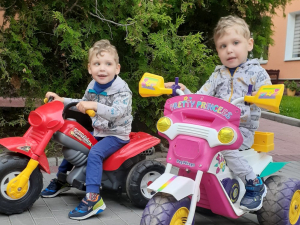 Target:
23000 UAH
Collected:
23000 UAH
Created:
25-10-2021
Completed:
19-11-2021
Status:
Completed
LET'S HELP 4-YEAR-OLD BROTHERS GO TO REHABILITATION IN DECEMBER!
Makar and Davyd are 4 years old. Boys from a large family. They have a brother Kyryl. They were born in triplets. And there is an older, 7-year-old brother Bogdan.
The triplets were born prematurely - at 33 weeks. When the brothers were 8 months old, their parents noticed that Makar and Davyd were developing with a delay. Since then, their long road to health has begun.
Children regularly visit rehabilitation specialists, practice at home. Now the boys can crawl, Davyd is on his knees. Both speak well, Makar has a good memory.
Brothers are curious, interested in everything in the world! They really like Dad's work cars.
To put your sons on their feet, you need a lot of money. A large family has no chance without our support!
Name: Papchenko Davyd
Date of birth: 28.10.2017
Diagnosis: Cerebral palsy. Double hemiplegia with persistent severe motor disorders
Name: Papchenko Makar
Date of birth: 28.10.2017
Diagnosis: Cerebral palsy. Double hemiplegia with persistent severe motor disorders
The purpose of the project: to raise UAH 23,000 to pay for a rehabilitation course at the International Rehabilitation Clinic of prof. Kozyavkin
CreditPlus
19-11-2021
15:22
Антон Киричок
28-10-2021
10:43
SlonCredit
27-10-2021
11:39