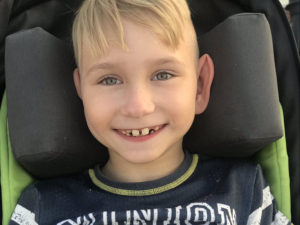 Target:
8100 UAH
Collected:
8100 UAH
Created:
01-11-2021
Completed:
29-11-2021
Status:
Completed
8-YEAR-OLD BOHDAN HAS EPILEPSY. EXPENSIVE EXAMINATION NEEDED!
Bogdanchyk was born on time. But the doctors' mistake cost him his health. At first, the baby had to fight for his life. Now the struggle continues — for a healthy childhood.
Hundreds of rehabilitation courses, and Bogdan is in the first grade.
Last year, the boy was diagnosed with another difficult diagnosis — epilepsy. After the initial examination at the Epi.net clinic, Bogdanchyk became much better. For complete remission requires re-examination and correction of treatment.
Please help the boy to live a full life!
Name: Nitchenko Bohdan
Date of birth: 30.06.2013
Diagnosis: Consequences of hypoxic-ischemic CNS damage in the perinatal period. Structural epilepsy, epileptic encephalopathy. Cerebral palsy, spastic tetraparesis. Delay of motor and psychospeech development
The purpose of the project: to collect UAH 8,100 to pay for the examination at the 'Epi.net' center