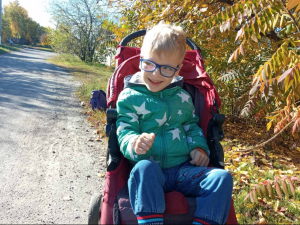 Target:
20000 UAH
Collected:
20000 UAH
Created:
02-11-2021
Completed:
19-11-2021
Status:
Completed
ONLY WITH YOUR HELP ZHORA WILL SAY HIS FIRST SENTENCE IN LIFE!
Zhora has so many complex diagnoses: cerebral palsy, epilepsy, partial atrophy of the optic nerves of both eyes, developmental delay... From birth, the boy fights for his life and health.
Parents do not lay hands. In spite of everything, they strive for maximum recovery for their son. Zhorik takes expensive German medicines, which have no analogues in Ukraine. Mom deals with the boy at home. The child regularly attends rehabilitation courses. After each such course, Zhora has a positive trend.
Zhorik is a very clever boy, his mother, Karine, writes. He understands everything, loves to learn, he is patient and obedient. Rehabilitation specialists note that the boy tries very hard in class.
At present, Zhora does not walk or talk. However, with each course he crawls more confidently, sits longer. And he utters more and more new words! Although he doesn't put them into sentences yet.
The Haustov family does not have their own home. Rented apartment is expensive. In addition, Zhora has an older sister, a schoolgirl. The family is barely making ends meet!
Only with your help Zhorik will go to a rehabilitation course in early January. Please do not remain indifferent!
Name: Haustov Georgy Andreevich
Date of birth: 07.12.2015
Diagnosis: Spastic cerebral palsy (dual hemiplegia), motor disorders of the 4th level. Symptomatic epilepsy. Partial atrophy of the optic discs of both eyes. Delayed rates of statokinetic and psycholinguistic development. Systemic language underdevelopment
The purpose of the project: to raise UAH 20,000 to pay for a rehabilitation course at the 'Rostok Zhyttya' Hippotherapy Center
CreditPlus
19-11-2021
15:21