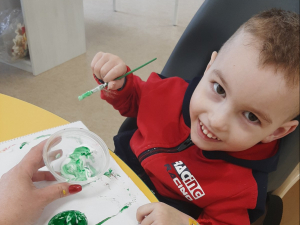 Target:
20000 UAH
Collected:
20000 UAH
Created:
04-11-2021
Completed:
26-11-2021
Status:
Completed
REHABILITATION FOR KOVAL IVAN. THE BOY NEEDS HELP!
The first 7 months of Ivanko's life were considered a healthy baby. Everything changed when the boy could not sit down on his own. He held his head, rolled over, held toys, but did not sit. And at 9 months the boy was diagnosed with cerebral palsy.
Ivan's intellect is completely preserved.
The first year with a complex diagnosis the child was treated with massages, acupuncture. Neurologist was sure that this was enough, and the boy was about to catch up in the development of peers.
But precious time was lost. In 2019, Ivanko went on a rehabilitation course for the first time. The results were positive.
The child began to come to life before his eyes. Ivan learned to drink from a cup, to eat. He sits confidently on a chair, crawls, gets off the couch, stands by the support. And, like any modern child, perfectly owns a smartphone and tablet.
Now the boy knows Ukrainian and English alphabets, numbers. Ivan loves to draw and sing. He is very sociable — he can talk non-stop.
On the way to victory there was an increased muscle tone on the right side. Because of this — skew of the pelvis and shortening of the right leg. And the family doesn't give up. Parents are actively involved with their son at home. They come for rehabilitation.
To put the boy on his feet, courses should not be missed. And these are very large funds. Help Ivan recover! Join the project!
Name: Koval Ivan
Date of birth: 05.05.2017
Diagnosis: Spastic cerebral palsy with persistent motor disorders
The purpose of the project: to raise UAH 20,000 to pay for a rehabilitation course at the St. John's Center
CreditPlus
19-11-2021
15:20