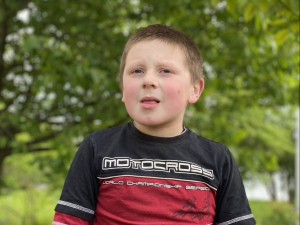 Target:
20000 UAH
Collected:
20000 UAH
Created:
05-11-2021
Completed:
23-11-2021
Status:
Completed
HELP MARYAN TO SPEAK!
Marian is almost 10. He lives in Lviv region with his father and mother. The boy has autism. He does not serve himself, does not speak.
The boy is in diapers all the time. He eats only milk, fruit and bakery products.
In contrast to a difficult diagnosis, Marian lives an active and fun life. He likes to play with his sister. He draws with pleasure. The boy understands everything, but does not answer anything.
Parents' hearts are broken. They so want Maryanchik to speak to them one day, to become more independent. According to the doctor's prescription, the child needs rehabilitation. The course is expensive. This is beyond the reach of Marian's family.
Please help the boy!
Name: Kashuba Maryan
Date of birth: 30.11.2011
Diagnosis: Childhood autism
The purpose of the project: to raise UAH 20,000 to pay for a rehabilitation course at the Brain Stimulation Center
SlonCredit
23-11-2021
10:22
CreditPlus
19-11-2021
15:20