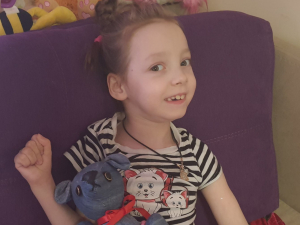 Target:
20065 UAH
Collected:
20065 UAH
Created:
10-11-2021
Completed:
23-11-2021
Status:
Completed
REHABILITATION FOR 7-YEAR-OLD VIKA HYMYCH
Vikulya was born for a long time — more than a day. And she was born small - only 2 kg 800 g. At 5 minutes of life the girl was not breathing. She spent 3 whole weeks in intensive care. The baby did not swallow, did not suck milk. Doctors predicted difficult diagnoses and even suggested that the young mother abandon the child.
But Natalia could not leave the long-awaited baby. Together they went home. And then the nightmare began.
Vika just twisted, she did not eat, did not sleep, and did not even lie still. The mother gathered all her will in her fist and began to fight for her daughter: massages, exercise, swimming.
At the age of 1.5, Vikulia was diagnosed with cerebral palsy. Where mother and daughter did not go, where they did not rehabilitate! And it bore fruit.
Now the girl is 7 years old. She learned to forge, chew, move with her mother's support, pick up objects, and control her head.
Classes with specialists help to relieve spasticity; the girl quickly acquires new skills. But the courses are very expensive. And Vicka's father doesn't help the family in any way.
Help the girl to go to a rehabilitation course in January 2022!
Name: Khymych Victoria
Date of birth: 05.01.2014
Diagnosis: Cerebral palsy. Delay in psychomotor and language development
The purpose of the project: to collect UAH 20,065 to pay for a rehabilitation course at the 'Sovenya' Rehabilitation Center
SlonCredit
23-11-2021
10:22
CreditPlus
19-11-2021
15:20