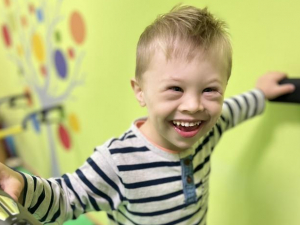 Target:
20000 UAH
Collected:
20000 UAH
Created:
10-11-2021
Completed:
26-11-2021
Status:
Completed
BOGDANCHYK WITH DOWN SYNDROME NEEDS CONSTANT REHABILITATION! PLEASE HELP PAY FOR THE COURSE IN JANUARY
"When the long-awaited son was born, it turned out that he had Down syndrome," — says mother Svitlana.
"No hopes. But later it became clear that the boy is developing well. Almost like all children, he just needs help. Rehabilitation, training with specialists, speech therapists have become a way of life."
Bogdanchyk is a very artistic, cheerful, smart, sociable guy. He is already 4 years old. So far he hardly speaks, there are difficulties in development. But thanks to classes with speech therapists, Bohdan has new skills.
Please help the child! Rehabilitation courses are very expensive. And Bogdan needs them regularly!
Name: Yanchyshyn Bohdan
Date of birth: 09.04.2017
Diagnosis: Down syndrome
The purpose of the project: to raise UAH 20,000 to pay for a rehabilitation course at the 'TIM' training and correctional center
CreditPlus
19-11-2021
15:19