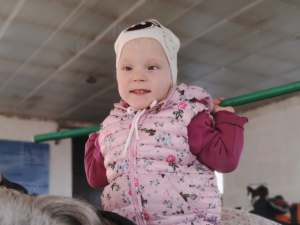 Target:
20000 UAH
Collected:
20000 UAH
Created:
15-11-2021
Completed:
17-12-2021
Status:
Completed
CEREBRAL PALSY IN 2-YEAR-OLD VERONICA RADKO. THE KID NEEDS EXPENSIVE REHABILITATION!
Veronica was born at 6 months of pregnancy. In the first year of life, the child experienced a lot: hemorrhage in the brain, resuscitation, retinal surgery, diagnosis of cerebral palsy...
Everything that seems trivial to others is a real victory for Veronica. It was so difficult to give her the first word, the first spoonful of porridge, which she sent to her mouth, the first collected pyramid.
Now the girl is 2.5 years old. Thanks to rehabilitation, she already knows a lot. But he still can't walk. And so I want to run with other children, play, attend kindergarten.
Parents do their best to keep their baby healthy. Unfortunately, rehabilitation courses are very expensive. The Radko family has two children. And Yana's mother is struggling with breast cancer, the woman has an operation ahead.
Please help Veronica to become healthy and independent!
Name: Radko Veronika
Date of birth: 29.05.2019
Diagnosis: cerebral palsy
The purpose of the project: to raise UAH 20 000 to pay for a rehabilitation course at the 'KIDSREHAB' center
CreditPlus
17-12-2021
15:32
CreditPlus
19-11-2021
15:19