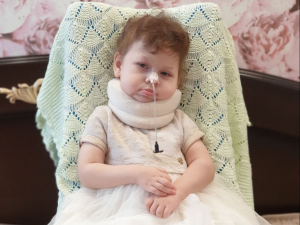 Target:
79842.2 UAH
Collected:
79842.2 UAH
Created:
22-11-2021
Completed:
17-12-2021
Status:
Completed
THE LIFE OF 3-YEAR-OLD VERONICA IS IN OUR HANDS! HELP TO COME OUT WITH A COMA!
The fatal operation turned little Veronica's life upside down. Before her, the girl was a cheerful, active, smiling child. Now Veronica has apalic syndrome. In other words, she is in a state of conscious coma.
This was supposed to be a routine routine operation — the babies were diagnosed with a hernia of the esophageal orifice of the diaphragm. At first, doctors said that everything went well. But at that time Veronica was never given to her parents. She was not taken out even after a few hours.
It turned out that after the operation the child had cardiac arrest. The girl was resuscitated, she fell into a coma. For a month Veronica was treated in a state of medicated sleep.
When the baby woke up, the doctors stunned with a terrible pile of diagnoses! They all appeared after the operation.
Veronichka is still in a conscious coma. Her condition is severe, the girl has a major brain injury.
At the same time, parents still managed to find a clinic where they can put the child on his feet. The family paid for 4 rehabilitation courses at its own expense. And there are positive dynamics! Veronica can return to a healthy childhood! Huge sums are needed...
We are opening a project to help the family at least partially pay for the next rehabilitation course.
Name: Dyachyna Veronika
Date of birth: 07/18/2018
Diagnosis: Spastic tetraparesis with persistent mobile irreversible disorders, dystonic seizures, apallic syndrome due to severe cerebral edema, localized (focal) symptomatic epilepsy and epileptic syndromes with complex partial seizures
The purpose of the project: to raise UAH 79 842,20 to pay for a rehabilitation course at the 'IstinaVeritas' clinic
CreditPlus
17-12-2021
15:28
SlonCredit
23-11-2021
10:23