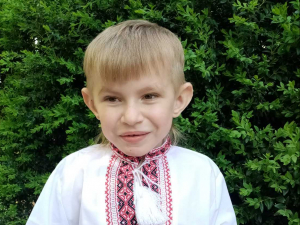 Target:
20050 UAH
Collected:
20050 UAH
Created:
23-11-2021
Completed:
17-12-2021
Status:
Completed
PRADER-WILLI SYNDROME. GIVE MAKSYM A HAPPY CHILDHOOD!
Maksym is 7 years old. And his greatest passion is the sea. The boy loves water. And parents try to regularly take their son to where the sun, sea and sand. And rehabilitation centers are often chosen in Odessa to visit the beach.
Unfortunately, the baby was born with significant pathologies of internal organs, brain. Maksymko and his mother spent the first year of their lives in hospital.
After a stubborn struggle for health, at the age of 2 Maksym learned to stand, and at the age of 3 — to walk independently. But the boy still can't climb stairs, run, eat on his own. Maksym is not asked to go to the toilet, he is always in a diaper.
The family can no longer cope alone. Rehabilitation courses and medicines are very expensive. Let's help Maksym to go to rehabilitation in January 2022!
Name: Romaniy Maksym
Date of birth: 24.01.2014
Diagnosis: Prader-Willi syndrome
The purpose of the project: to raise UAH 20,500 to pay for a rehabilitation course at the 'SPACE CLINIC' rehabilitation center
CreditPlus
17-12-2021
15:28