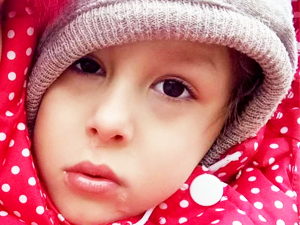 Target:
22475.38 UAH
Collected:
22475.38 UAH
Created:
23-11-2021
Completed:
19-01-2022
Status:
Completed
MEDICINE AND SPECIAL NUTRITION FOR 5-YEAR-OLD MILAN WITH DIFFICULT DIAGNOSES
The remaining funds in the amount of UAH 314.37 were reallocated to the Tsarenkov Danya project.

Milana is 5 years. The girl was born prematurely - at 27 weeks of pregnancy. The baby barely survived! Her weight was only 730 g! For the first 1.5 months of her life, Milanka was in intensive care. And within a year the girl was diagnosed with a lot of disappointing diagnoses.
From the first day of Milana's life, parents do not stop fighting for their daughter's health. Julia's mother actively maintains profiles on social networks. All family funds go to rehabilitation, examination, treatment, development of the daughter.
Now Milana doesn't walk, doesn't come back, doesn't talk, doesn't sit well. Expensive medication is needed to alleviate the girl's condition. And the girl needs anti-inflammatory syrup and special food. An ordinary Ukrainian family with 2 daughters has already run out of money!
Let's support the Trygubets family! Thanks to these funds, we will provide Milana with syrup and food for 8 months.
Name: Trygubets Milana
Date of birth: April 10, 2016
Diagnosis: Cerebral palsy, double hemiplegia, psychomotor and speech developmental delay, epilepsy, scoliosis.
The purpose of the project: to raise UAH 22 475,38 for the purchase of 'Keppra' syrup and 'Resource Junior' special food
Перерозподіл коштів з проєкту 1092 (Мащенко Оксана)
19-01-2022
12:57
CreditPlus
17-12-2021
15:29