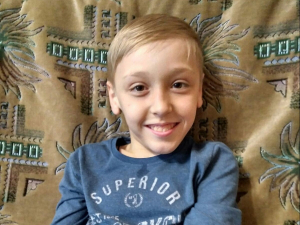 Target:
20000 UAH
Collected:
20000 UAH
Created:
24-11-2021
Completed:
17-12-2021
Status:
Completed
11-YEAR-OLD ILLIA'S MOST COMMITTED DREAM IS TO WALK. GIVE THE CHILD A CHANCE!
Illia was born on time. But wrapped around the umbilical cord. As a result of asphyxia, the infant developed severe diagnoses. Among them is cerebral palsy.
Parents tried hard for their son. They traveled all over Ukraine, tried many methods of rehabilitation.
Now Illia does a lot of things: sitting, crawling, talking, even riding a special bike. The boy is smart, loves to learn, he is positive and enjoys life every day.
The most cherished dream of a child is to walk, run, play football, be like everyone else.
For this wish to come true, regular rehabilitation is needed. After each course, Illia gets much better. Unfortunately, the cost of 1 such course is unaffordable for the boy's family.
Only with your help, Illia has a chance for a healthy future!
Name: Lavryk Illia
Date of birth: 10.02.20103
Diagnosis: cerebral palsy. Convulsive syndrome. Level III motor disorders
The purpose of the project: to raise UAH 20,000 to pay for a rehabilitation course at the 'Vilnyi Ruh' Rehabilitation Center
CreditPlus
17-12-2021
15:29