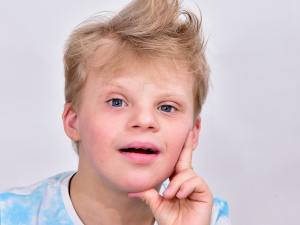 Target:
19980 UAH
Collected:
19980 UAH
Created:
26-11-2021
Completed:
23-12-2021
Status:
Completed
BE LIKE EVERYONE. HELP SERHIY WITH DOWN SYNDROME!
Serhiyko is the third in the big family. Almost from birth he was diagnosed with Down syndrome.
The little boy often suffered from laryngitis and pneumonia. He underwent 2 surgeries.
Now Serhiy goes in for sports: he swims and plays football. And he dances.
Serhiyko is kind and cheerful. Unfortunately, due to hyperactivity, he is inattentive and has poor memory. However, rehabilitation gives its own. The child becomes more focused.
In order for the skills acquired in the courses to be consolidated, considerable funds are needed for regular classes. Serhiy's father does not take part in his son's upbringing.
Mother Svetlana loves her youngest son very much. And tries to give as much as possible to Serhiy. Please help the boy to socialize and be like everyone else!
Name: Poliovyi Serhiy
Date of birth: 25.07.2011
Diagnosis: Down syndrome. Moderate mental retardation. Hyperactive syndrome
The purpose of the project: to raise UAH 19,980 to pay for a rehabilitation course at the 'Medical Center 'Osoblyvi'
ТОВ "ХЕЛС МЕНЕДЖЕР"
23-12-2021
11:43
CreditPlus
17-12-2021
15:28
Перерозподіл коштів з проєкту 997 (Зінов'єва Саша)
10-12-2021
12:28