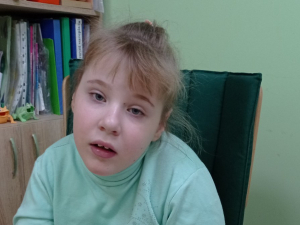 Target:
20000 UAH
Collected:
20000 UAH
Created:
29-11-2021
Completed:
23-12-2021
Status:
Completed
8-YEAR-OLD OLYA HAS BEEN FIGHTING COPD ALL HER LIFE. LET'S SUPPORT THE GIRL!
This year, Olya became a first-grader in an inclusive curriculum. She has a happy future ahead, confident her mother Svitlana. But without your help Olya can not cope. Girl have cerebral palsy, and regular rehabilitation is very expensive.
Olya was born prematurely. She was in intensive care for 40 days. The baby was less than 1 year old when doctors made a disappointing diagnosis. Since then, Olya and her mother have been battling cerebral palsy.
The father does not want to communicate with his daughter. Does not help the girl.
Support Olya! She really wants to be healthy!
Name: Shevchenko Olga
Date of birth: 04.03.2013
Diagnosis: Cerebral palsy. Level V motor disorders. Symptomatic myoclonic epilepsy. General language underdevelopment of 1 degree. Strabismus
The purpose of the project: to raise UAH 20,000 to pay for a rehabilitation course at the 'Samotuzhka Plus' Center
ТОВ "ХЕЛС МЕНЕДЖЕР"
23-12-2021
11:44
CreditPlus
17-12-2021
15:30