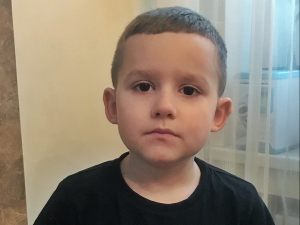 Target:
35000 UAH
Collected:
35000 UAH
Created:
13-12-2021
Completed:
14-02-2022
Status:
Completed
ONLY WITH YOUR HELP, 6-YEAR-OLD GRYSHKO WILL OVERCOME CANCER!
Andriushchenko Grysha is a very kind and caring boy. He loves mathematics and draws with great pleasure.
When Gryshko was almost 4, he contracted leukemia. It was a terrible blow for a large family. The boy has two sisters. One of them was born 3 months after the family learned about Gryshko's terrible illness.
The boy underwent a difficult, long, expensive treatment. He was hospitalized for a whole year. And now he continues to be treated at home. Chemotherapy greatly weakened Grisha. It needs a lot of support.
The child takes at least 15 tablets daily. And for the Andriushchenko family these are huge funds. Please help Grysha finally defeat blood cancer!
Name: Andriushchenko Hryhoriy
Date of birth: 20.10.2015
Diagnosis: Acute lymphoblastic leukemia
The purpose of the project: to raise UAH 35,000 for the purchase of maintenance drugs and to pay for laboratory tests
Виробнича компанія "Велта"
14-02-2022
13:06
Перерозподіл коштів з проєкту 1092 (Мащенко Оксана)
20-01-2022
15:40
SlonCredit
30-12-2021
11:36
CreditPlus
17-12-2021
15:27
svetlana_nesen@kareta.dp.ua
14-12-2021
09:50
Перерозподіл коштів з проєкту 874 (Андрющенко Гриша)
13-12-2021
15:44