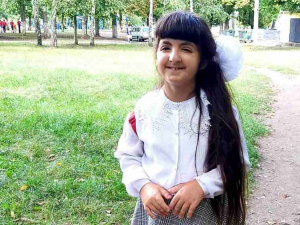 Target:
20050 UAH
Collected:
20050 UAH
Created:
14-12-2021
Completed:
10-01-2022
Status:
Completed
TERRIBLE DIAGNOSES DESTROY CAMILLE'S CHILDHOOD. THE GIRL NEEDS PERMANENT REHABILITATION!
'As soon as Camilla was born, the problems started. Unclear, bad diagnoses,' the girl's mother begins her story. Indeed, the list of the main diagnoses of the child is impressive — 4 lines in the medical certificate!
Now Camilla is 8. The child does not speak. Knows some syllables, letters. She can't write or draw. Despite this, Camilla is a very cheerful girl. She loves to communicate. Although there are difficulties. Due to illness, Camilla does not always understand how and with whom to be friends and play.
The girl loves books with stickers, cartoons. And he enthusiastically swims and plays ball with his older brother.
With each rehabilitation course, Camilla develops new skills. With small steps she is approaching a healthy childhood. And classes in the Kharkiv clinic are very expensive. The family cannot pay for all the courses on their own, so the girl's mother turned to us. Please help Camilla to go to rehabilitation in January 2022!
Name: Kostousova Kamilla
Date of birth: March 8, 2013
Diagnosis: Minimal brain dysfunction, delayed psycho-linguistic development. Epigenetic disease. Disorders of sulfur-containing amino acids. Secondary mitochondropathy. Chromosomal polymorphism.
The purpose of the project: to raise UAH 20,050 to pay for the rehabilitation course at the 'SPACE CLINIC' rehabilitation center
Александр
15-12-2021
18:32