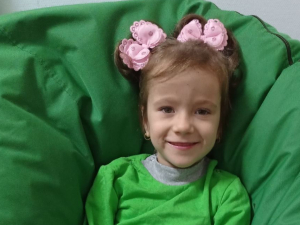 Target:
9495 UAH
Collected:
9495 UAH
Created:
17-12-2021
Completed:
30-12-2021
Status:
Completed
EXPENSIVE SPECIAL SUPPLY AFFORDABLE BY THE HALYTSKI FAMILY
Veronicka is 6 years old. Due to difficult diagnoses, she does not walk or even sit. However, due to regular classes, the girls' hyperkinesias decreased and their eyesight improved. The girl tries to talk.
Veronika is very positive. He even comes to the doctors with a smile.
Now she has been prescribed a special diet that will help digestion, correct underweight. Its cost is unaffordable for her family.
We open a raise to provide Veronika with special food for 3 months. Join us!
Name: Halytska Veronika
Date of birth: July 25, 2015
Diagnosis: Cerebral palsy, speech delay
The purpose of the project: to raise UAH 9,495 for the purchase of special food 'Resource Junior'
SlonCredit
30-12-2021
11:35
Олександр
20-12-2021
20:08
CreditPlus
17-12-2021
15:32