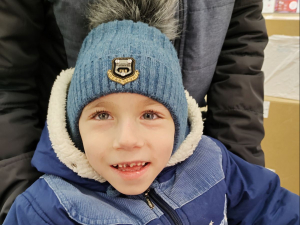 Target:
20000 UAH
Collected:
20020 UAH
Created:
22-12-2021
Completed:
07-01-2022
Status:
Completed
6-YEAR-OLD ZHENIA WILL TAKE THE FIRST STEPS ONLY WITH YOUR HELP!
5 days of artificial lung ventilation. The moon in the perinatal center. Thus began Zhenia's life.
Thanks to rehabilitation, the boy learned to roll over from his back to his tummy, sit, crawl, stand on high knees. Zhenia has learned to speak! It may not be very good, but it can be understood.
The boy is trying very hard. He also wants to achieve verticalization and walk independently.
Zhenia loves to draw, sculpt, play with other children. He helps his mother in the household with interest. He especially likes to do laundry.
And of course, like any other child, Yevgenko likes to watch funny videos on the Internet.
Now the boy's main goal is to learn to walk. This requires regular classes with rehabilitators. Their cost is not affordable for the Minaev family. Please help your child go to the course in February!
Name: Minaiev Yevgeniy
Date of birth: July 10, 2015
Diagnosis: Organic damage to the CNS. Lower paraparesis
The purpose of the project: to raise UAH 20,000 to pay for a rehabilitation course at the 'Rostok Zhyttia' hippotherapy center
Новоточиновы
07-01-2022
10:50
ТОВ УКР-ТРАНС-ЛОГІСТИКА
06-01-2022
12:49
ТОВ "ХЕЛС МЕНЕДЖЕР"
23-12-2021
11:42