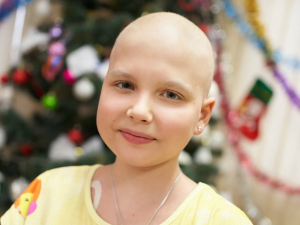 Target:
50000 UAH
Collected:
41879.42 UAH
Created:
18-01-2022
Status:
THE FIGHT AGAINST CANCER CONTINUES! KSYUSHA MUST WIN!
Soroka Ksenia is 12 years old. She is desperately fighting leukemia. The girl bravely endured 4 blocks of high-dose chemotherapy, from which there was a lot of 'side effects': fungal infection, increased blood pressure, 'jumping' pulse ...
When Ksenia gets better, she and her mother happily go to the clubs that are cared for by volunteers inside the hospital. There, children draw, make applications.
Now the child passes 3 blocks of usual 'chemistry'. In the future, Ksenia will need a bone marrow transplant.
And now she needs expensive drugs, because the internal organs suffer from therapy. Mom is always with her daughter, and Ksenia's dad, unfortunately, died in 2020. They do not expect help from anyone. One hope for you!
Name: Soroka Ksenia
Date of birth: 15.08.2009
Diagnosis: Acute lymphoblastic leukemia
The purpose of the project: to raise UAH 50,000 for the purchase of maintenance drugs and to pay for laboratory tests
Катерина
20-02-2022
06:29
Барті Крауч
16-02-2022
10:41
CreditPlus
01-02-2022
13:34
k.anna161325@gmail.com
31-01-2022
21:11
Перерозподіл коштів з проєкту 1092 (Мащенко Оксана)
20-01-2022
15:34
ЯЛИНКА ДОБРА. 2.0
20-01-2022
14:10
Перерозподіл коштів з проєкту 1093 (Сорока Ксюша)
18-01-2022
13:00