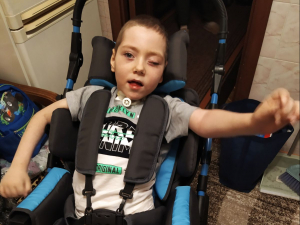 Target:
80300 UAH
Collected:
61148 UAH
Created:
27-01-2022
Status:
Open
7-YEAR-OLD MAKSYM TKACH IS SLOWLY RECOVERING AFTER A TERRIBLE INJURY. THE FAMILY BUDGET IS FINALLY EXHAUSTED!
The boy, who stirred hearts with his tragic story, continues to fight for health. We remind you that 2.5 years ago the boy was very injured on the playground. The blow was so strong that it led to a severe head injury, two operations, a coma.
Now Maksymko continues classes at the 'Nodus' Center. Thanks to the efforts of doctors and continuous work, the boy was transferred to outpatient treatment. All doctors, as one, argued that the home environment will encourage new skills, provoking new emotions.
And the doctors were right. Recently, the boy has won many victories. The swallowing reflex is restored, that is, sensitivity returns.
Maksym began to look at people more; it is noticeable that he looks around, is interested; the child's gaze became more conscious.
All these achievements are uplifting and hopeful.
Maxim has been treated for a very long time. Each rehabilitation course is very expensive. And you need to practice constantly. For this, Maksymko needs simulators that will help him train at home on his own.
Name: Tkach Maksym
Date of birth: 05.01.2015
Diagnosis: TBI. Improving post-traumatic consciousness
The purpose of the project: to raise UAH 80,300 to pay for a rehabilitation course at the 'Nodus' neurorehabilitation center
CreditPlus
23-02-2022
17:15
Виробнича компанія "Велта"
21-02-2022
17:10
Барті Крауч
16-02-2022
10:42
Виробнича компанія "Велта"
14-02-2022
13:05
CreditPlus
01-02-2022
13:33