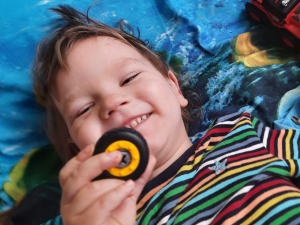 Target:
50000 UAH
Collected:
50007 UAH
Created:
28-01-2022
Completed:
13-07-2022
Status:
Completed
A 3-YEAR-OLD BOY HAS ISCHEMIC STROKE! HELP IS URGENTLY NEEDED!
Vladyk is a very active child. He likes to play moving games, watch cartoons about cars. A little joker, such a smiling boy. Although jealous: both to people and to toys. Does not part with the machine even when there is 1 wheel left.
The boy has an acute ischemic stroke. This disease is very rare in such young patients. According to doctors, anything from elementary hypothermia could provoke its appearance...
Due to a difficult diagnosis, the left side of his body is weaker than the right. And now Vladyk can not behave as before. In order to just get up, he needs to make a lot of effort.
Vladyk and his mother are in the Regional Children's Clinical Hospital. Doctors regularly prescribe expensive drugs. The single mother has already exhausted all possible means. She has nothing to pay for medicine at the pharmacy. Please support Vladyk and his mother Valeria!
Name: Smyrnov Vladyslav
Date of birth: January 19, 2019
Diagnosis: Acute ischemic stroke of the right temporal, occipital and parietal lobes of the brain
The purpose of the project: to raise UAH 50,000 for the purchase of medicines and to pay for laboratory tests
Новоточиновы
13-07-2022
22:38
Барті Крауч
16-02-2022
10:41
Количева А.В.
15-02-2022
15:37
CreditPlus
01-02-2022
13:33