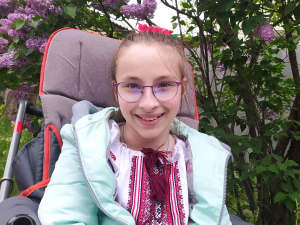 Target:
20000 UAH
Collected:
20000 UAH
Created:
31-01-2022
Completed:
07-02-2022
Status:
Completed
A COMPLETE LIFE FOR MANUYLENKO MARIYKA
12-year-old Mariyka was born prematurely. She could neither suck nor swallow, and weighed only 1400 g! When she was 1 year old, doctors diagnosed her with cerebral palsy and spastic diplegia.
Marusya is a sociable girl and has many friends. She easily manages to find an approach to both children and adults. The girl loves to read, recites poems, dreams of playing the ukulele and drawing.
But most of all Mariyka wants to walk! Her first steps began in 2018. First she learned to walk along the wall, then — holding hands. Now the girl has all the prospects to move independently! It is important not to miss courses, to attend classes with an interval of 2 months.
Such treatment is not affordable for the Manuilenko family. Help Maria move freely! Without your support, she has no chance for a full future!
Name: Manuylenko Maria
Date of birth: 07.01.2010
Diagnosis: Сerebral palsy, spastic diplegia
The purpose of the project: to raise UAH 20,000 to pay for a rehabilitation course at the 'Rostok Zhyttia' hippotherapy center