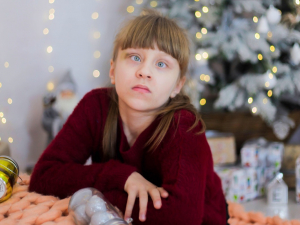 Target:
20000 UAH
Collected:
20000 UAH
Created:
02-02-2022
Completed:
07-03-2022
Status:
Completed
10-YEAR-OLD ANYA WILL DEFINITELY BE HEALTHY. IF YOU SUPPORT HER!
Anya's story is painfully ordinary and, unfortunately, will not surprise anyone. Asphyxia, internal bleeding in the stomach, as a consequence — hydrocephalus. Resuscitation, mechanical ventilation, neonatal pathology department.
Thanks to the caring hands of doctors, Anechka came home at 3 months. Then the endless surveys began. Their results were unhappy: epilepsy, hydrocephalus, optic glioma, etc.
All these years the family has been trying hard for their daughter. Every 3 months they consult a doctor, undergo MRI, encephalogram. Anya is developing a little. Thanks to classes with a speech therapist, he learns to speak and compose words into sentences. Regular rehabilitation measures are needed to speed up the process.
After all, this is the only way the girl will develop new skills and further improve coordination. The course costs a lot. Help with fundraising!
Name: Kovalyova Anna
Date of birth: 22.07.2011
Diagnosis: Neurofibromatosis. Optic nerve glioma. Long-term consequences of early organic CNS damage. Delay in mental and language development.
The purpose of the project: to raise UAH 20,050 to pay for the rehabilitation course at the 'SPACE CLINIC' rehabilitation center
Виробнича компанія "Велта"
14-02-2022
13:05
Виробнича компанія "Велта"
07-02-2022
15:28