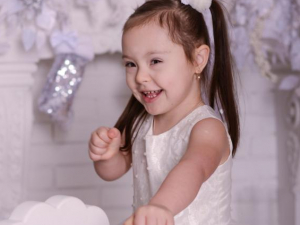 Target:
20000 UAH
Collected:
20000 UAH
Created:
03-02-2022
Completed:
09-03-2022
Status:
Completed
5-YEAR-OLD LISA GOES TO A HAPPY FUTURE. SUPPORT HER!
On the day of astronautics, April 12, 2016, a little girl Lisa was born. Sunny child with Down syndrome.
The parents learned about the diagnosis immediately after the arrival of their daughter. This was evidenced by certain markers. And later the diagnosis was confirmed by the results of cytogenetic examination.
In addition to the main diagnosis, Lisa was found to have concomitant: ischemic CNS lesions, tonic lesions syndrome, congenital myopia of the right eye and others. And from 9 months to 3 years the girl had tremor of the cervical spine, the child was constantly shaking his head. Thanks to regular exercise, this is over.
Lisa is a very friendly girl, loves other children, enjoys attending kindergarten. She smiles at everyone, hugs everyone. The child dances, jumps on a trampoline, is fond of drawing.
To socialize as much as possible, Lisa needs regular classes with rehabilitation specialists. Only in this way she has a chance not to feel different, to find herself and live a full life! Help raise funds, because each course costs a lot, and the Efimenko family will not be able to do without your support.
Name: Yefimenko Elyzaveta
Date of birth: 12.04.2016
Diagnosis: Down syndrome
The purpose of the project: to raise UAH 20,000 to pay for a rehabilitation course at the 'Body & Brain' Rehabilitation Center
Виробнича компанія "Велта"
14-02-2022
13:03
Виробнича компанія "Велта"
07-02-2022
15:27