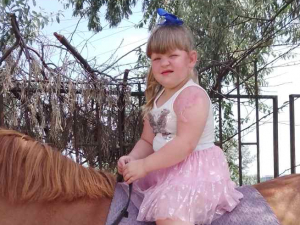 Target:
23000 UAH
Collected:
23000 UAH
Created:
04-02-2022
Completed:
21-02-2022
Status:
Completed
7-YEAR-OLD DASHA NEEDS URGENT SURGERY!
Dashunya Syvashchenko was born one and a half months premature: at 34 weeks of pregnancy, doctors discovered that the child was not getting enough oxygen and performed an emergency cesarean section. Dasha spent a whole month in intensive care at the ventilator, two more - in the neonatal pathology department. The baby was seriously retarded, and at the age of 3 Dasha was diagnosed with cerebral palsy.
Not counting how many courses of rehabilitation, massage, exercise therapy the girl went through. She is constantly engaged in the "Center for Comprehensive Rehabilitation for People with Disabilities" on the street. Tobacco, regularly swims in the pool.
And there are great results! Dasha can sit up, get up and stand on her own, leaning on the furniture, with support to take up to 10 steps. She knows numbers, learns letters, understands speech well, fulfills requests and speaks.
Dashunya is a real fashionista: she is constantly spinning in front of the mirror, changing clothes. Uses mum's cosmetics on purpose. He likes to tinker with the cat Murchik: he dresses up and rides him in a wheelchair. And the cat patiently "plays" with Dasha. And the baby loves to sing.
Physical development has advanced sharply since the first orthopedic operation using the Ulzibat method, performed in November 2020. When the limbs do not stretch constantly at their full amplitude, the tendons seem to "ossify", stop working properly and further limit motor skills. Ulzibat surgery solves this problem by applying micro-notches to the tendons. And thanks to her Dasha began to actively learn to walk.
But contractures in the Achilles tendon still need to be eliminated, so a second such operation is needed early next year. Dasha believes that she can learn to walk without assistance. 23,000 UAH cost of the operation.
Only the father works in the family, and the mother dedicates herself entirely to her daughter. Parents cannot cope without our financial support. Let's help Dasha realize her main dream - to walk on her own!
Full name: Syvashchenko Daria
Date of birth: 12.02.2015
Diagnosis: Cerebral palsy, spastic tetraparesis
The purpose of the project: to raise UAH 23 000 to pay for the operation
БФ ПОМАГАЄМ
21-02-2022
14:19