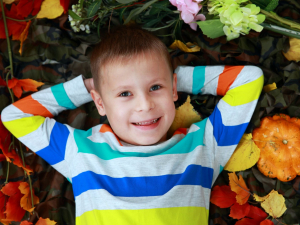 Target:
20000 UAH
Collected:
20000 UAH
Created:
04-02-2022
Completed:
08-02-2022
Status:
Completed
IVANENKO KYRYLO LAGS BEHIND ALL KINDS OF DEVELOPMENT. HE NEEDS YOUR HELP!
Kyrylo's 7. He was born in the Donetsk region. But because of the war, his family was forced to move to Odessa.
The boy has severe diagnoses: cerebral palsy, mental retardation, atypical autism and others.
After several years of training with rehabilitation specialists, Kyrylo began to walk independently, he had eye contact, interest in sight. However, the child does not speak (only a few words), does not serve himself.
The mother, raising a son on her own, cannot regularly pay for expensive rehabilitation measures. The child's father is deprived of parental rights.
Let's help Kyrylo to socialize!
Name: Ivanenko Kyrylo
Date of birth: 19.08.2014
Diagnosis: Cerebral palsy with persistent severe movement disorders. Gross delay of all types of development. Atypical autism
The purpose of the project: to raise UAH 20,000 to pay for a rehabilitation course at the 'Leprekon+' Children's Correctional Center
Співробітники CONCORDBANK
08-02-2022
13:40
Виробнича компанія "Велта"
07-02-2022
15:27