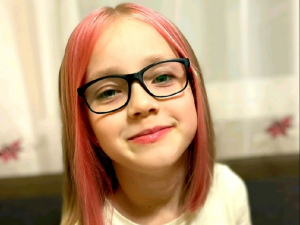 Target:
20000 UAH
Collected:
20000 UAH
Created:
07-02-2022
Completed:
10-03-2022
Status:
Completed
7-YEARS-OLD MILANA CAN OVERCOME STOPPING ONLY IF YOU SUPPORT HER!
'Milashka was a long-awaited daughter. Nothing foretold trouble. The pregnancy went without any complications', — says Anna.
'During the contractions, I did not lose water. Urgently performed cardiotocography. The child's heartbeat disappeared. Cesarean section. At that time, every second was worth its weight in gold! The child was born without signs of life... '
The struggle for Milana began immediately. The baby was resuscitated, blood was transfused... Fortunately, the little one was saved. But, unfortunately, not without consequences.
At 7 months, Milana did not sit down. Her mother sounded the alarm and turned to an orthopedist. He prescribed an adjusting device because X-rays revealed dysplasia of the hip joint. But this treatment was in vain. At the age of 2.5, the girl was diagnosed with cerebral palsy.
From that moment on, Anna, Milana's mother, does not stop for a moment. She really wants her little girl to be healthy.
Milanka is a very bright and positive girl. She is fond of creativity, loves to draw. She loves to dance. When she is in the company of children, she strives to be a leader. She loves attention to herself.

Regular rehabilitation courses are needed for Milanka to recover. They cost a lot. And especially for single mothers. Please support Milanka and her mother in their difficult struggle!
Name: Rabin Milana
Date of birth: 18.06.2014
Diagnosis: Cerebral palsy, spastic diplegia. Level II motor disorders. General underdevelopment of speech of the III level
The purpose of the project: to raise UAH 20,000 to pay for a rehabilitation course at the 'Vilnyi Ruh' Rehabilitation Center
Виробнича компанія "Велта"
14-02-2022
13:03