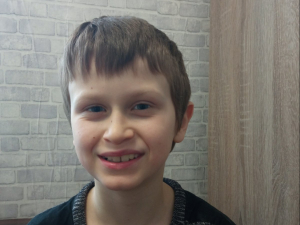 Target:
20000 UAH
Collected:
20000 UAH
Created:
09-02-2022
Completed:
09-03-2022
Status:
Completed
9-YEAR-OLD BOHDAN BEATS HIMSELF ON THE HEAD AND CRYING. THE BOY NEEDS HELP!
Bohdan is 9 years old, he has autism spectrum disorders. This diagnosis of the boy was established at the age of 4, and Bohdan immediately began to visit a psychologist, go for a massage.
The boy has elevated intracranial pressure of 2 degrees. Bohdan often hits himself on the head and cries. The pool helps him to relieve a headache.
Another big problem is that the child does not feel full from eating. The mother has to constantly monitor how much her son ate. After all, Bohdan's level of acetone in his blood rises from overeating.
The guy doesn't speak.
In 2020, Bohdan's father died. And the boy had a hard time with this loss: he was looking for his father, bringing photos of his father and crying. It was difficult not only morally but also physically. After all, at that time there was a regress in the child's development.
Now Bohdan works with a speech therapist, sometimes visiting the pool. But there are no funds for full-fledged rehabilitation. Please support your family! Each course of intensive rehabilitation will help the boy to socialize!
Name: Gubarev Bohdan
Date of birth: 17.08.2012
Diagnosis: F84.0. Childhood autism
The purpose of the project: to raise UAH 20,050 to pay for the rehabilitation course at the 'SPACE CLINIC' rehabilitation center
Виробнича компанія "Велта"
14-02-2022
13:03