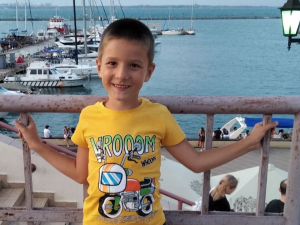 Target:
19800 UAH
Collected:
19800 UAH
Created:
10-02-2022
Completed:
10-03-2022
Status:
Completed
REHABILITATION COURSE IN MARCH. COLLECTION FOR ARTEM KHOMICH WITH AUTISM
Artemko was born like a healthy baby. The fact that he lags behind his peers in development was noticed when the child was 1.5 years old. Then doctors talked about various diagnoses: delayed psycho-emotional development, attention deficit syndrome ... And only at the age of 4.7 Artem was diagnosed with autism.
Now a 7-year-old boy needs regular classes with rehabilitation specialists. After all, after each such course there is a positive dynamic: the child reaches for the beginning, remembers new words.
Artemko loves to communicate with other children, loves to travel and draw. He is a good boy, interesting in everything !.
Please help him get to the planned rehabilitation course in March!
Name: Khomych Artem
Date of birth: October 1, 2014
Diagnosis: Autism
The purpose of the project: to collect UAH 19,800 to pay for the rehabilitation course at the 'Cactus' Development Territory' Rehabilitation Center
Виробнича компанія "Велта"
14-02-2022
13:04