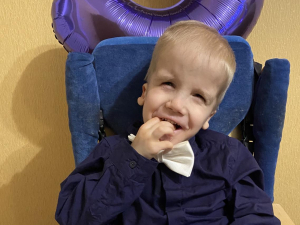 Target:
20000 UAH
Collected:
20000 UAH
Created:
17-02-2022
Completed:
22-06-2022
Status:
Completed
HELP GORDIYCHYK! REQUIREMENTS REQUIRED TO PAY FOR REHABILITATION
The long-awaited son Gordiy began to lag behind his peers when he was a child. As soon as the parents noticed that not everything was fine, they started knocking on all the doors. Diagnosis - congenital malformation of the brain, mental retardation and speech development.
5-year-old Gordiy regularly practices with a physiotherapist, speech therapist. The parents make every effort to ensure that the boy does not miss the planned rehabilitation courses. The family barely makes ends meet, only for Gordiy to be able to develop.
The boy is very positive, always smiling. Gordy loves to watch cartoons and take pictures.
At the end of March, the child is expected at the 'KidsRehab' Rehabilitation Center. Here, according to his mother, the boy achieves the best results. However, the services of the center are expensive. The family is unable to pay for them on their own. Please give Gordiy a chance to be a healthy child!
Name: Kulinich Gordiy
Date of birth: 17.10.2016
Diagnosis: Congenital malformation of the brain. Delay in mental and speech development. Symptomatic epilepsy.
The purpose of the project: to raise UAH 20,000 to pay for a rehabilitation course at the Private individual Sharun Taras Yaroslavovich
Співробітники CONCORDBANK
22-06-2022
16:22
Виробнича компанія "Велта"
21-02-2022
17:09