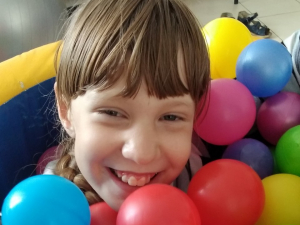 Target:
20000 UAH
Collected:
11011 UAH
Created:
17-02-2022
Status:
Open
EVELINKA HOPES FOR YOUR INDIFFERENCE! SUPPORT THE GIRL!
9-year-old Evelina has severe autism.
In addition to autism spectrum disorders, girls have a number of comorbidities: thoracic kyphosis, gluten and lactose intolerance, and so on.
Evelinka's life is a daily struggle for a full childhood. The girl needs regular rehabilitation measures — 3-4 times a year. The cost of one such course is more than UAH 20,000.
When Evelina was 8 years old, doctors assured her that she would never speak. Despite this, the child gradually learned to say a few words. She mustn't stop!
Please help the Kalmykov's family pay for the planned rehabilitation course in March!
Name: Kalmykova Evelina
Date of birth: 02.04.2012
Diagnosis: Childhood autism. Delayed language development. Connective tissue dysplasia. Hypermocysteinemia. Valgus posture of the feet. Kyphosis of the thoracic spine.
The purpose of the project: to raise UAH 20,000 to pay for a rehabilitation course at the 'SPACE CLINIC' rehabilitation center