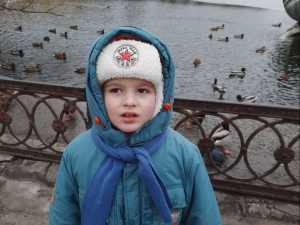 Target:
19801.4 UAH
Collected:
19801.4 UAH
Created:
13-04-2022
Completed:
15-04-2022
Status:
Completed
​VOLODY NEEDS "CEREBROKURIN"! GIVE YOUR CHILD A CHANCE TO BE HEALTHY!
6-year-old Volodya has a difficult diagnosis — delayed psycho-speech development due to organic lesions of the CNS and metabolic disorders.

From birth, the boy was examined in hundreds of offices. Pediatricians, neurologists, geneticists. Before the war, the boy visited a training and rehabilitation center, worked with a speech therapist, speech pathologist, rehabilitation specialists.
The child hardly speaks and needs constant expensive treatment. Last year, a geneticist-metabolist prescribed Vova the expensive drug "Cerebrokurin".
Thanks to you, we helped Volodya and bought the first 20 ampoules of the drug! The result was stunning: the child began to speak, learned to count to 100 and read!
"The son can solve mathematical problems in two steps (addition and subtraction), studied the multiplication table. Volodya began to remember very well, almost like all healthy children. He teaches poems, prayers, can tell about himself: what he did, where he went. Language comprehension has also improved," said the boy's mother
The little patient still has a lot of work to do: he needs to work on pronunciation, motility, catch up with peers in development.
The cost of one course of treatment — two packages of the drug — about 20 000 UAH! And the single mother is not able to buy such expensive drugs, because because of the war Оlena lost her job.
Volodya is a good and nice boy. He loves music, cartoons, enjoys walking in the fresh air. Let's help him live a full life!
Name: Samofal Volodymyr
Date of birth: 14.04.2016
Diagnosis: BPD. Organic lesions of the CNS. Mitochondrial disease with secondary fatty acid oxidation. Connective dysplasia. Partial lactose intolerance. Hyperammonemia. Histamine intolerance. Detoxification disorders. Disorders of carbohydrate metabolism. Iodine deficiency. Disorders of sulfuric acid metabolism.
The purpose of the project: to collect UAH 20,050 for the purchase of 'Cerebrokurin'
Перерозподіл коштів з проєкту 1011 (Джерш Ілля)
15-04-2022
13:07