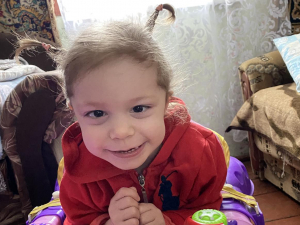 Target:
20035 UAH
Collected:
20035 UAH
Created:
19-04-2022
Completed:
21-04-2022
Status:
Completed
CEREBROCURIN FOR 3-YEAR-OLD EVA! URGENT COLLECTING FUNDS!
Three-year-old Eva has been accustomed from birth to fighting for her own life and future. Most of all, Eva loves to listen to fairy tales and tries her best to move actively. Despite a difficult diagnosis — cerebral palsy — the doctors note the positive dynamics and give comforting predictions.

Regular rehabilitation brings Eva closer to a healthy childhood. Four times a year she deals with specialists. But in addition, the child needs drug therapy. Cerebrocurin improves cerebral, arterial and venous cerebral circulation.
The cost of one course of treatment for Eva is about 10,000 UAH. This is a very large sum of money for the Rudnytsky family. Please support the girl to deliver her more fairy tales and have less pain in her life!
Name: Rudnytska Eva Leonidivna
Date of birth: January 19, 2019
Diagnosis: Сerebral palsy
The purpose of the project: to raise UAH 20,035 for the purchase of 'Cerebrokurin'
Перерозподіл коштів з проєкту 1011 (Джерш Ілля)
21-04-2022
15:52