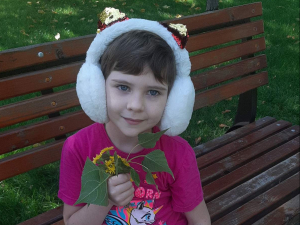 Target:
35000 UAH
Collected:
35000 UAH
Created:
26-04-2022
Completed:
30-06-2022
Status:
Completed
7-YEAR-OLD SASHA STILL STRUGGLING FOR LIFE
Leukemia. This diagnosis of seven-year-old Alexandra Bushneva sounds really scary. But thanks to your support, it may not become a verdict!

Now the young patient is at home and receiving "dry chemistry" and maintenance therapy. The liver and other drug-sensitive internal organs usually suffer the most from chemotherapy. To reduce the risk, the girl needs to take hepatoprotectors.
Once a week Sasha visits the laboratory and takes a blood test. According to the indicators, it is possible to calculate the dosage of the drug accurately.
Sasha is a strong girl and bravely goes through all medical procedures. She wants to be healthy and do gymnastics. But at the moment professional sport is contraindicated for her, so Sasha spends time drawing and learning English.
The girls have a long and difficult treatment ahead. And without your help she can not cope. Please support Sasha! She really wants to live!
Name: Bushniova Alexandra Nikolaevna
Date of birth: August 6, 2014
Diagnosis: Acute lymphoblastic leukemia
The purpose of the project: to raise UAH 35,000 for the purchase of maintenance drugs and to pay for laboratory tests
Перерозподіл коштів з проєкту 1175 (Сорока Ксенія)
22-07-2022
17:26
Перерозподіл коштів з проєкту 1082 (Швирло Вероніка)
22-07-2022
17:13
CreditPlus
05-07-2022
16:17
Перерозподіл коштів з проєкту 1191 (Пшеничний Руслан)
09-05-2022
09:55
Перерозподіл коштів з проєкту 977 (Бушньова Саша)
26-04-2022
16:12